All volunteers must register online. No walk-ins allowed. Minimum age requirement is 14 (sorry, no exceptions.)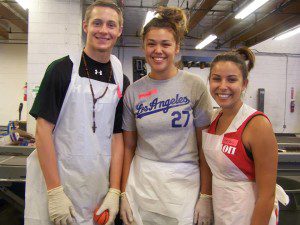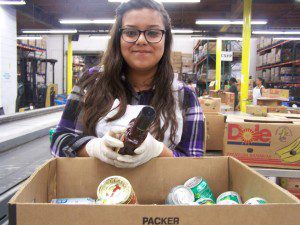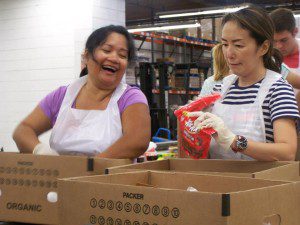 Without volunteers, the Food Bank would not be able to provide food for thousands of hungry people every week. Get together with a social, church or work group and spend a day with us.
PLEASE NOTE:  WE CANNOT ACCEPT COURT-REFERRED VOLUNTEERS AT THIS TIME
To learn more about becoming a Food Bank volunteer, contact our volunteer coordinator at (323) 234-3030, extension 144 or [email protected]
All volunteers are asked to complete a liability release prior to participating in programs at the Food Bank. Minors must have the release signed by a parent or legal guardian. To download a copy of the release click here.
Minimum age for volunteering is 14 years old.
Volunteers must wear closed toe shoes.(No sandals or open toe shoes allowed in the warehouse.)
For a current listing of our volunteer needs…click here!
Volunteers are needed for the following:
Food Sorting
When product is donated to the Food Bank, it often needs to be sorted, cleaned and repackaged. We call this gleaning. Volunteers are needed to assist with the gleaning process everyday. Our facility is available Monday through Saturday to individuals, groups or organizations of 100 volunteers or less to support this need.
Work Experience Program
Los Angeles Regional Food Bank provides work experience and on-the-job training to interested individuals. Food Bank volunteers receive support with interviewing techniques, resume writing, job referrals and one-on-one intake with prospective employers.
Special Events and Food Drives
Los Angeles Regional Food Bank is constantly involved with Food Drives and Special Events. Volunteers perform a wide range of duties, depending on the event.
Celebrate Your Birthday at the Food Bank
We'll coordinate everything for your special day with invitations, email invitations, RSVP email, and logistics.
Contact Ana Martinez, Volunteer Director at 323.234.3030 ext. 144 or by email [email protected] to schedule your day.
Groups
If you would like to register a new group, email Volunteer Director Ana Martinez at [email protected]
Directions:
For a map and directions to the Food Bank's offices and primary distribution and volunteer center located at 1734 East 41st Street in Los Angeles click here.
For a map and directions to our satellite distribution and volunteer center located at 6055 Randolph Street in Commerce click here.