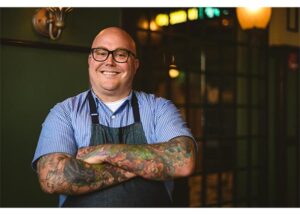 Tyler was born and raised in Southern California where he began his career as a Chef before moving to the state of Connecticut. His cooking style is inspired by simple quality goods and the culinary traditions of New England.
Tyler and his restaurant group currently own and operate four locations in the state of Connecticut.
Millwright's Restaurant & Tavern in Simsbury, CT is a New England inspired, highly seasonal restaurant. The restaurant serves anything from traditional tavern fare to a seven course Chef's Tasting menu.
Porron & Pina in Hartford, CT is a traditional Spanish tapas restaurant and cocktail bar in the Goodwin Hotel. Tyler and his team also run all the food and beverage for group functions within the hotel.
At The Blake Hotel in New Haven, CT Tyler and his team operate High George, a "clam shack" inspired rooftop bar, and Hamilton Park, a restaurant with coastal New England cuisine that is inspired by the ocean and farms. Tyler's team also runs all the food and beverage for group functions within the hotel.
His newest restaurant Square Peg Pizzeria in Glastonbury, CT is his first venture with his friend Bruce Kalman of Top Chef fame.
They combine three of their favorite things under one roof; great pizza, Italian comfort food and video games.
Tyler's restaurants have garnered numerous statewide awards including best restaurant overall (six times), three best new restaurant awards along with many more.
Tyler has been nominated for the James Beard Best Chef Northeast award six years in a row. He has also been named CT Chef of the Year. Tyler was featured on Season 15 of Top Chef, as well as on Chopped and Beat Bobby Flay. Tyler and his team are extremely involved in philanthropic works and pride themselves on helping raise over $500,000 yearly for local and national charities.
Tyler is married to Melanie Stepka and has three children Violet, Gavin and Averi.