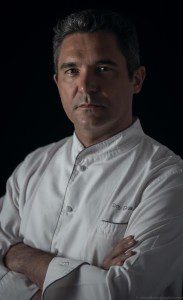 Executive Chef Tony Esnault brings the light and sophisticated cuisine of Southern France to Spring, his latest collaboration with partner and wife Yassmin Sarmadi. Spring opened in February 2016 at Los Angeles' historic Douglas building, and presents a complementary culinary experience to the couple's acclaimed French bistro Church & State.
"The simplest way to describe the culinary difference between the two restaurants is to say that, while Church & State's classic bistro fare is driven by the use of butter, the backbone of Spring's lighter fare is olive oil," says Esnault. "Ultimately, bringing the cuisine of Southern France to Southern California is a logical one. The two regions have very similar climates, ideal for farming and fishing, and in turn, yield some of the best ingredients in the world."
Growing up on his grandparents' farm in the south of France, Esnault learned at an early age to appreciate seasonal ingredients and regional French cooking. One of his earliest culinary memories includes his grandmother showing him how to hunt and prepare every part of a rabbit.
By eight years old, Esnault had already decided he wanted to become a chef. In his early culinary years, he trained at the François Rabelais culinary school in Lyon, and later honed his craft at multiple Michelin-starred restaurants across Europe, including Le Montparnasse 25, Carré des Feuillants, Auberge de L'Ill in Alsace, and in1996, at the legendary Louis XV restaurant in Monte Carlo, where he met his mentor, Alain Ducasse.
"First and foremost, he (Ducasse) taught me how to maintain flavors without altering the ingredients too much," Esnault says. "There's a radiance to food in its natural state that you don't want to undermine."
Elegance of flavor and artistic execution have become Esnault's trademarks in the United States. At the Ritz Carlton Boston, his reinvention of the hotel restaurant earned him "Best Hotel Chef of America" in 2004 by Food & Wine magazine, and the restaurant four AAA Diamonds and four Mobil Stars. In 2005, Esnault reunited with his mentor in New York City, working as executive chef at Alain Ducasse at the Essex House and opening Adour at the St. Regis in 2007. His work with Ducasse earned the restaurants a combined five Michelin stars, three stars from The New York Times, and he was also named StarChef's "Rising Star."
Esnault relocated to Los Angeles in 2009 to take the helm at Patina in the Frank Gehry-designed Walt Disney Concert Hall, and a year later, Patina was awarded an exceptionally rare four-star review by the Los Angeles Times. At Patina, Southern California's abundant produce provided Esnault with a new wave of inspiration and reverence for fruits and vegetables.
Today, Esnault's obsession with California's finest produce is reflected at both Church & State and Spring, where he only uses the freshest local, seasonal and sustainable ingredients, executed with fine dining precision. "Chefs can set an example," Esnault says. "We need to pay greater attention to conscious ingredient sourcing and how varieties of species are preserved. Great quality food should encompass the entire chain, from purveyor to palate."
Esnault resides in downtown Los Angeles with his wife and partner, Yassmin Sarmadi and their dog. In his free time, he collects art, antique cookware, and travels the globe.