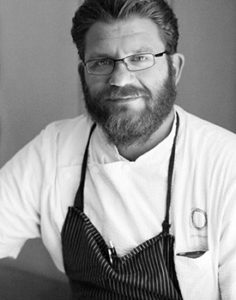 At his much acclaimed Los Angeles restaurant Providence, Co-owner and Chef Michael Cimarusti has created elegant and contemporary seafood-centric cuisine for a decade. The chef and the restaurant have earned national accolades that include several James Beard Award nominations and two highly coveted Michelin stars. He combines his extensive knowledge and appreciation for seafood, with an advocacy for sustainable fishing practices that is evident in each dish he creates. "Seafood has inspired me in a personal way from the very start," he says. "It is my duty to staunchly support its conservation and best practices, and it's my privilege to have the opportunity to showcase it on a nightly basis."
Cimarusti cultivated his reverence for ingredients in his experiences leading up to founding the restaurant in 2005. Prior to Providence, he dedicated six years to serving as executive chef at downtown L.A.'s famed seafood restaurant Water Grill, earning both glowing local reviews and a national reputation for his masterful approach to seafood. The New Brunswick, NJ, native was first lured to L.A. by Wolfgang Puck to become chef de cuisine at the celebrity chef's original Spago. Cimarusti also worked notable stints at fine-dining institutions in the U.S. and abroad, including New York City's Osteria del Circo, at which he served as opening chef de cuisine; the Michelin three-starred Arpège with Chef Alain Passard in Paris; and Le Cirque, the iconic New York City establishment from Restaurateur Sirio Maccioni, at which he had the opportunity to cook with renowned French Chefs Paul Bocuse, Roger Vergé, and Gérard Boyer.
His path for a storied culinary career was spurred from experience in his youth: fishing with his grandfather and learning the traditions of his Italian heritage from his grandmother's and great-grandmother's cooking. His most influential professional experience came just after graduating with honors from the Culinary Institute of America in Hyde Park, NY, when he headed down the Hudson River to New York City to cook at An American Place with Chef Larry Forgione. Working garde manger, the young chef had access to the leading edge of the farm-to-table movement that would soon transform American cuisine. "Much of the reverence I have for ingredients came from my experience with Larry," Cimarusti says. While working in Forgione's kitchen, he also met his future wife and business partner, the talented pastry chef Cristina Echiverri.
Today, he and Echiverri operate Providence and Connie & Ted's, the West Hollywood eatery they opened in 2013, paying homage to Cimarusti's grandparents and the simple, honest seafood cookery of New England. Outside of his restaurants, the chef actively supports the Special Olympics and always finds time to go fishing with his two children.