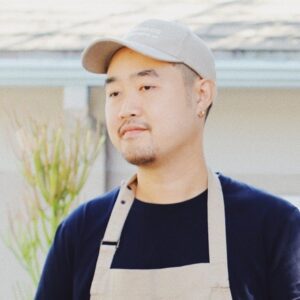 Originally from Thailand, Wedchayan "Deau" Arpapornnopparat opened the popular takeout window, Holy Basil, with partner Tongkamal "Joy" Yuon, earlier this year. Located in the new up-and-coming downtown Los Angeles food hall, Santee Passage, Holy Basil focuses on Bangkok/Central Thai Street Food. Deau (along with Joy) is also behind The Base, which is a hand-crafted line of beverage starters featuring flavors such as Gooseberry Marigold, Blackberry Charcoal and seasonal specials such as Lychee and Blood Orange Elderflower. The Base can currently be found at Smorgasburg and has built up a fanbase over the years.
While Los Angeles is a hotbed for Thai food, Deau wanted to focus on his favorite dishes, while utilizing the great produce found at various farmers' markets, as well as quality meat and fish purveyors. He also hosts a pop-up called YUM, which features a menu of intensely flavored dishes that are dressed and tossed in a sauce that is spicy, sweet and savory – similar to a salad. Holy Basil has amassed a bevy of critical praise and attention from all strata of food media – from the Los Angeles Times to Eater to Infatuation.
Prior to these projects, Deau had moved to the United States to study Fine Art on the East Coast. However, he would find himself relocating to California, first to San Francisco where he worked his first restaurant job, then down to Los Angeles where he worked at SnapChat as a designer for a few years but would gravitate back to restaurants. He has worked in almost every position in restaurants, from busser and dishwasher to host to line cook and now chef/owner of Holy Basil, and co-owner/-operator of The Base with Joy. Together, they plan to expand Holy Basil and The Base's reach, along with other new concepts in the pipeline.