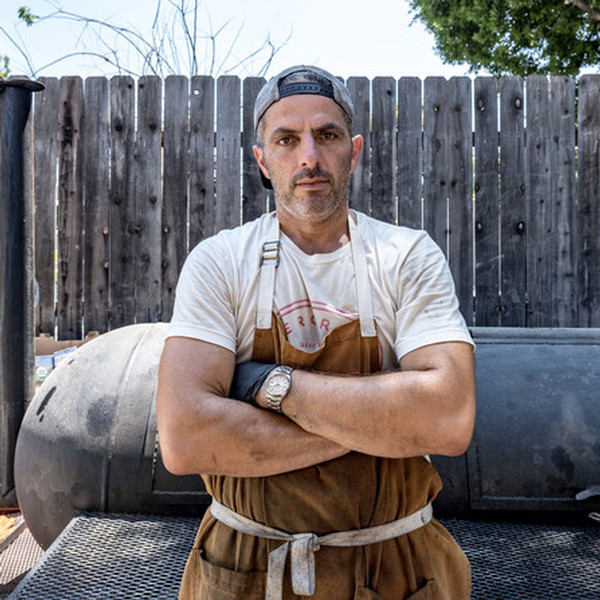 They say the best barbecue takes time — and the story of SLAB is years in the making.
It begins deep in the heart of Texas, where Burt Bakman, an Israeli immigrant, found his calling to be a pitmaster. A quick business trip to the Lone Star State instead turned into a chance exploration of barbecue at its source, fostering a lifelong obsession in him to perfect the craft. Not a man to settle for second-best, Bakman determined to become one of the "greats" at smoking meat.
Years later, that determination paid off.
As the mastermind behind Trudy's Underground Barbecue in Los Angeles, Bakman built a reputation from his skill at the smoker and an obsessive Instagram following among LA's notoriously fickle foodies. From the small backyard of his home in the San Fernando Valley, Bakman has been quietly serving up smoked brisket, hot links, and other barbecue essentials to diners who have no qualms calling his meats the finest that Southern California has to offer.
At the time, one of Bakman's earliest supporters and friends in LA, h.wood Group's Brian Toll, would often stop in for brisket sandwiches, and the two would talk religiously about barbecue.
It might seem like a strange pairing — the h.wood Group was primarily known for their successful nightlife venues — but, after trying Bakman's underground barbecue, it was clear they had a winning recipe. LA's best-kept barbecue secret could no longer remain that way.
SLAB, the brainchild of Bakman and the h.wood Group, was born in 2015. The team agreed that whatever was to come would not only have to be dedicated to the best quality brisket and ribs but would need to be faithful to the elbow-rubbing charm of Bakman's backyard barbecue.
After 3 years of perfecting the space, kitchen, and recipes, SLAB officially opened as a brick-and-mortar location on Tuesday, November 20, 2018, along a busy strip of West Third Street in Los Angeles.
When you sit down at SLAB and taste the marbled brisket for the first time or strike up a conversation over a shared plate of food, you'll know this experience has been worth the wait.