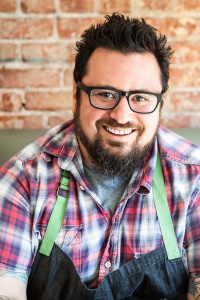 Bruce Kalman's Northern Italian cooking style embraces the diverse and abundant produce of California to create exquisitely balanced flavor profiles meant to warm the soul at KP Hospitality concepts like UNION in Pasadena, CA and Knead & Co. Pasta Bar + Market in L.A.'s Grand central Market. His commitment to indigenous ingredients goes beyond the farmers' market to build strong connections with local providers, keeping the operations' carbon footprint low, supporting the local economy, and connecting diners to high quality vegetables, meats, and cheeses straight from the source.
Kalman's meticulous approach to authentic, flavor-forward cuisine permeates every corner of his menu. "We use vegetables from root-to-leaf, butcher animals' head-to-toe, and even stretch fresh cheeses in-house," he says. "I'm exceedingly passionate about food that is handcrafted from beginning to end." He imparts his traditionally rooted culinary expertise on his staff as well, aiming for old school quality through modern management techniques, ditching the traditional kitchen fervor in favor of joining the line to cook alongside his team.
The mindful chef's culinary career began in his hometown of Paramus, NJ. "I started cooking at 13 in a local family-owned pizzeria, and I never looked back," he says. "I really enjoy it—beyond the food, it's about the energy of the kitchen, the camaraderie, the teamwork, it's awesome. Every day is a challenge." He solidified his skills through a hands-on culinary program at Jersey City's Hudson Community College, and, after rising through the ranks of local kitchens, moved to Chicago to serve as executive chef for restaurants including Okno, Green Dolphin, and Coco Pazzo.
His next roles came in the Southwest, with Il Piatto in Santa Fe, NM and Chelsea's Kitchen in Phoenix. Following his westward momentum, Kalman landed in Los Angeles in 2011 to help launch Santa Monica's Misfit, and later joined West Hollywood's The Churchill, at which he excelled in producing housemade charcuteries, pastas, and desserts. His innovative success encouraged him to debut Bruce's Prime Pickle Company in 2013, highlighting his devotion to handcrafted products made from local and sustainable ingredients.
Throughout his career, Kalman has gained recognition from James Beard, with a nomination for "Rising Star Chef," and has appeared on the Food Network to earn a "Chopped" championship title as well as on Esquire Network to win "Knife Fight."
Kalman met Marie Petulla in 2014 as UNION took shape, and the two leveraged their respective restaurant skillsets to launch KP Hospitality, now including the Knead & Co. Pasta Bar + Market concept. As executive chef, Kalman leads the Northern Italian and Mediterranean culinary programs, calling on traditional techniques and indigenous ingredients to impress guests with familiar yet elevated takes on Italian cooking.
When he is not in one of KP Hospitality's kitchens, the West L.A. resident enjoys taking his wife, Gina, out to dinner and a movie followed by a walk along the ocean, often with their two dogs in tow. The couple also likes to travel, visiting destinations around the country from Portland to Boston to Maui and beyond. Kalman maintains his lifelong music hobby by performing alongside culinary personality Duff Goldman in their cover band, Foie Grock.