Local food companies can save money and reduce waste while helping to nourish our community. Last year we received millions of pounds of food from local businesses to help feed hundreds of thousands of individuals each month.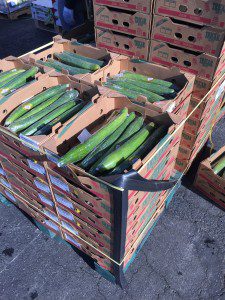 Large-scale food donors include:
Manufacturers
Distributors
Grocery retailers, wholesalers and brokers
Growers and packers
Schools and institutions
Food transportation companies
Food Donation = Business Solutions
By donating your unsalable, surplus, distressed, or close-to-code-date food directly to Los Angeles Regional Food Bank, your company receives many benefits:
Save money on dumping and disposal fees
Reduce waste and increase sustainability
Receive a tax deduction (consult with your tax advisor)
Increase warehouse space or save on storage charges
Expand company visibility through partnership opportunities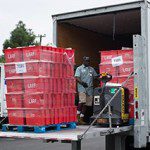 Protecting Our Partners
Millions of pounds of food and groceries go to waste each year. To encourage companies to donate healthy food that would otherwise go to waste, the government instituted the Good Samaritan Food Donation Act to protect donors from criminal and civil liability:
Protects donors from liability when donating to a non-profit organization
Protects donors from civil and criminal liability should the product donated in good faith later cause harm to the recipient
Standardizes donor liability exposure; donors and their legal counsel do not need to investigate liability laws in 50 states
For more information, please refer to the Bill Emerson Good Samaritan Food Donation Act.
DONOR INFORMATION
Please be prepared to provide the following information prior to donating:
Company name, mailing address, contact name, and phone number
Reason for donation (surplus, approaching code date, inventory, salvage, quality control)
Product description and storage requirements (dry, refrigerated, frozen, fresh)
Packaging details (case and package size)
Number of units, pounds, cases, pallets
Is the product labeled with a list of ingredients?
Code date information (date printed on the individual package or carton)
HOW PRODUCT DONATION WORKS:
Contact the Product Donations Department to schedule a pick-up at grocerydonations@lafoodbank.org
Donations are received into our inventory system and stored in our freezer, cooler or dry storage
All donations are made available to our network of more than 600 nonprofit partner agencies and direct service programs
HOW DO I BECOME A DONOR?
For more information, contact the Food Resources team at:
Office: (323)234-3030 x129
Email: grocerydonations@lafoodbank.org