Help Combat Hunger with the Los Angeles Regional Food Bank Today.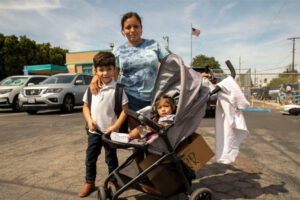 Since 1973, the LA Regional Food Bank has provided 1.6B+ meals to those facing hunger.
The Los Angeles Regional Food Bank is proud to be recognized as one of the most efficient non-profits in our community. With a Platinum transparency grade from Candid in 2023, and a 4/4 star rating from Charity Navigator, you can trust that your donation will be used effectively to combat hunger.

How do I know the  Food Bank is Highly Efficient?
One great way to evaluate nonprofit organizations is to evaluate accolades from nonprofit confidence websites like Candid and Charity Navigator, and the Los Angeles Regional Food Bank has excellent accolades, as mentioned and linked above. Another metric to evaluate is the percentage of funds that are spent in the community versus the nonprofit's overhead.
It takes money to run a nonprofit, especially one like the Food Bank. We own and operate a fleet of trucks and have highly trained and licensed drivers. We distribute millions of pounds of fresh produce and frozen protein items, so we have massive walk-in freezers that need to be kept cold. We operate two hundred thousand square feet of food storage with racks from floor to ceiling, so we need forklifts and licensed drivers. We also have staff to help raise funds and conduct government advocacy programs. All of these expenses are essential in the fight against hunger. It simply wouldn't be possible to have a Food Bank as large and effective as the Los Angeles Regional Food Bank with a 100% volunteer workforce, no facilities, and no equipment.
If a nonprofit reinvests 85% of what they raise into the community, but needs 15% to run the operation itself, that's a success in itself. However, at the Los Angeles Regional Food Bank, 97% of all revenue goes to our programs which are designed to fight hunger. Only 3% is utilized for essential functions in logistics and administration.
---
More about the Los Angeles  Regional Food Bank
Since 1973, we have distributed nearly 2 billion pounds of food to individuals in need. Our network of hundreds of partner agencies and tens of thousands of annual volunteers currently assists hundreds of thousands of individuals on a monthly basis. When you make a donation to the Los Angeles Regional Food Bank, your contribution makes an immediate impact on the community.
The Los Angeles Regional Food Bank sources and distributes nutritious food and other products to people experiencing food insecurity. It also conducts hunger and nutrition education and awareness programs, and advocates for governmental policies that benefit the individuals we serve.
By donating to the Los Angeles Regional Food Bank, you are directly supporting our programs and helping us fulfill our mission of ensuring that no one goes hungry in Los Angeles County. Join us in the fight against hunger by making a donation today. Thank you for your support.